160116 | UK flooding: How a Yorkshire town worked with nature to stay dry | Home News | News | The Independent
Submitted by Angarrack.info ... on Sat, 16/01/2016 - 01:00.
Via http://www.independent.co.uk/news/uk/home-news/uk-flooding-how-a-yorkshi...
UK flooding: How a Yorkshire town worked with nature to stay dry
Pickering pulled off protection by embracing the very opposite of what passes for conventional wisdom
Saturday 2 January 2016 23:45 BST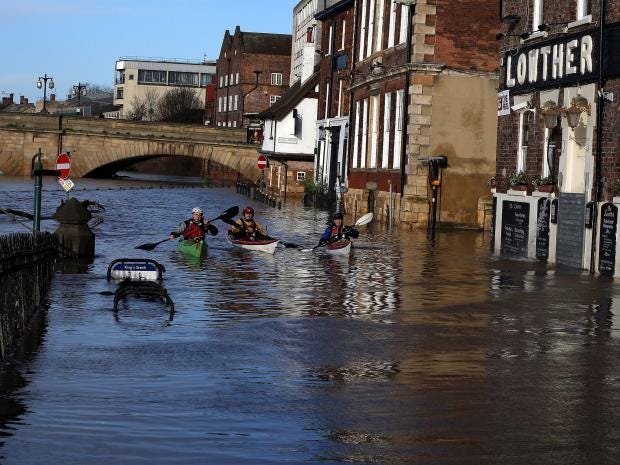 Canoeists check out buildings in flooded York Getty
While the sodden, submerged North of Britain was, literally, wringing out the old year last week, one notorious Yorkshire flood blackspot was celebrating staying dry – despite having been refused a multimillion pound defence scheme.
Pickering, North Yorkshire, pulled off protection by embracing the very opposite of what passes for conventional wisdom. On its citizens' own initiative, it ended repeated inundation by working with nature, not against it.
Its success, and that of similar schemes across the country, should be at the heart of the "complete rethink" of policy being officially promised in the aftermath of last month's floods – which cost the country at least £5 billion – as climate change threatens to make them increasingly commonplace.
And it ridicules an increasingly-voiced contention that these were largely caused by what one columnist called "militant environmentalism" enforced by "green zealots who put protected species above people". By this argument, much advanced by climate change sceptics, the unprecedented north English and Scottish inundations – like those on the Somerset Levels and the Thames Valley two years ago – are down to successive Governments and officials neglecting to take precautionary measures, like dredging rivers, in order to protect wildlife.
If this were true, few places would have better reason than Pickering to want to keep nature at bay. Stuck at the bottom of a steep gorge draining much of the North Yorks Moors, it was flooded four times between 1999 and 2007, with the last disaster doing £7 million of damage.
The solution, its people were officially told, would to be build a £20 million concrete wall through the centre of town to keep the water in the river. No-one thought it was ideal: it would have impaired Pickering's attraction for tourism. But then they were told that they could not have it anyway since too few people would be protected to satisfy the cost-benefit analysis for such schemes enforced on the Environment Agency by the Treasury.
At that point – as Mike Potter, chairman of the Pickering and District Civic Society puts it – the townspeople were "spitting feathers" and decided to take matters into their own hands. Hearing from a local environmentalist how the moors had traditionally released rainwater much more slowly – and of how, centuries ago, monks at nearby Byland Abbey had built a bund to hold it back – they decided to try to go back to the future.
They got together with top academics from Oxford, Newcastle and Durham Universities to examine all options. Much the best plan turned out indeed to be to try to recreate past conditions by slowing the flow of water from the hills. Impressed by the intellectual endorsement, official bodies like the local councils, the Environment Agency, the Forestry Commission and even the Department of the Environment, Food and Rural Affairs, joined in.
They built 167 leaky dams of logs and branches – which let normal flows through but restrict and slow down high ones – in the becks above the town; added 187 lesser obstructions, made of bales of heather and fulfilling the same purpose, in smaller drains and gullies; and planted 29 hectares of woodland. And, after much bureaucratic tangling, they built a bund, to store up to 120,000 cubic metres of floodwater, releasing it slowly through a culvert.
After 24 hours of rain, just three months after it was inaugurated, Mr Potter climbed up to the scheme and found it working well. Then he went home, "switched on the TV, and saw the all the floodwaters elsewhere". He adds: "While there was devastation all over northern England, our newly completed defences worked a treat and our community got on with life as normal." The total cost, he says, was around £2m, a 10th that of the original wall which, he believes, would not have coped with the Boxing Day conditions anyway.